My Music Collection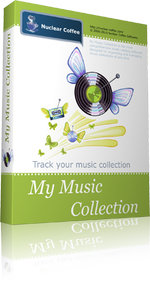 My Music Collection provides you with an innovative way to organize and manage your CDs, vinyl records and other media. This music collection software is designed to meet the needs any kind of collectors - from home users with large collections to professional DJs.

This music collection software provides options for adding either CDs or vinyl records. Simply insert a CD and My Music Software will automatically pull all information from several online databases. Adding a vinyl is practically the same; just enter artist and title, and the application fill find all missing information on the Web.

For those collectors who often borrow albums to friends, My Music Collector will also help to track which CDs were loaned, when and to whom.

The program also does an excellent job in searching through, filtering and managing your music collection. The music collection software does not only create a fully organized music inventory, but its filtering and sorting tools allow you to quickly find, filter or group items within the collection. You can also create a report and then print or save it into a variety of file formats. Additionally, you can create as many user-defined tracking categories as you want, and attach as many of these as you want to any CD, record or track.

The music collection software with its light and intuitive interface allows users to create, organize and manage music collections in just a few minutes.

Download 32-bit Download 64-bit Order Now



My Music Collection features
Add any type of media automatically. With My Music Collection you can add any media types to your collection, including CDs, vinyls (LPs), mini discs, MP3s audio files or even cassettes.
Add albums simply by inserting CD. Simply insert a CD into your CD driver and this music organizer will automatically add it to your collection and get all CD data from the Internet.
Add CD albums by reading barcodes. To add album to your collection, simply scan the barcode on jewel box with a barcode reader. You can even use your webcam as a barcode scanner.
Add albums manually. To add a cassette or a vinyl record you can type all information into corresponding fields and select cover image from a folder on your computer.
Import your collection from other software. Using other music collection software? You can import all data from other software, such as Catraxx, MusicLabel, Collectorz Music Collector, VinylManager, OrangeCD, CDPedia, Gsoft4u Music Collection, MusicNizer, etc.
Import from your Discogs online collection. You can automatically import your full Discogs collection.
Import from CSV / Excel. You can import all data from CSV / Excel file. My Music Collection will automatically download all related data (such as cover art, track list, etc.).
Import your MP3 collection. My Music Collection can scan your local hard drive for MP3/FLAC/OGG/etc. files and import your entire collection of digital media. Integrated music player will make it easier to play those MP3s directly from My Music Collection.
Keep track of borrowed albums. Now you will know who has borrowed albums, when it was borrowed and when it should be returned to you.
Get CD information from the Internet. This CD inventory software will automatically download album information from the Internet, including artist, title, release date, cover, etc. Furthermore, you can choose databases to search in.
Online databases are used. All information about CDs, Vinyls can be fetched from MusicBrainz, Discogs, iTunes, Last.fm.
Create a wish list. This CD organizer allows you to create a list of items you would like to purchase.
Search albums by a keyword. It is really easy to find albums in your collection - simply enter a keyword and select fields to search for.
Sort items in your collection. Sort albums or tracks alphabetically, chronologically, or by any other field.
Filter and group albums in My Music Collection. Filter and group albums or tracks alphabetically, chronologically, or by any other field.
Print the list or export it to a variety of formats. My Music Collection allows you to either print a report or save it as HTML, Excel, PDF, Text file or XML file.
View statistic for your music collection. CD Archive Software also allows you to view collection statistics and generate a report. The report shows total statistics for your collection, as well as allows you to view collection data grouped by various values (by artist, by release year, by genre, by country, etc.).
Customize My Music Collection easily. You can change application appearance, screen layout, select collection view, adjust toolbars or add and remove fields.
Friendly and intuitive user interface. This CD catalog software user friendly and intuitive interface allows you to do all operations easily and effectively.
Supported languages: English, Français, Dansk, Deutsch, Español, Italiano, Magyar, Nederlands, Norsk, Polski, Português do Brasil, Português (Portugal), Slovenščina, Türkçe, Русский, Українська, 한국어.
System requirements: Windows NT / 2000 / XP / Vista / Windows 7 / 8 / 8.1 / 10 / 11.